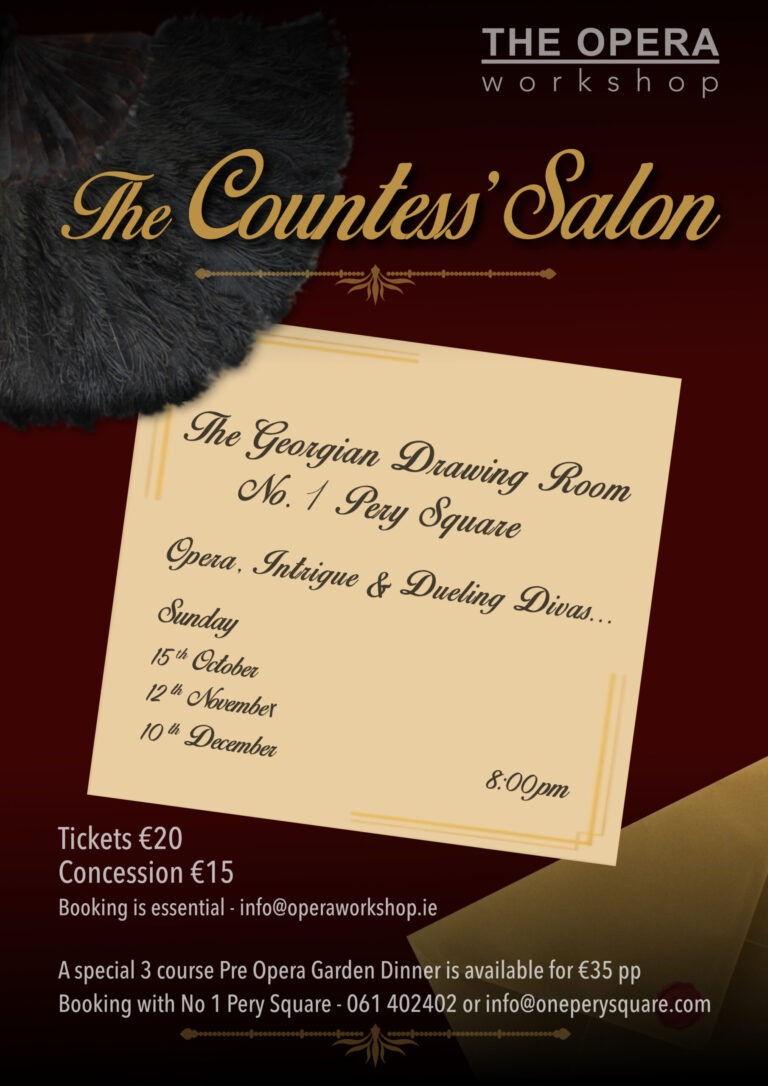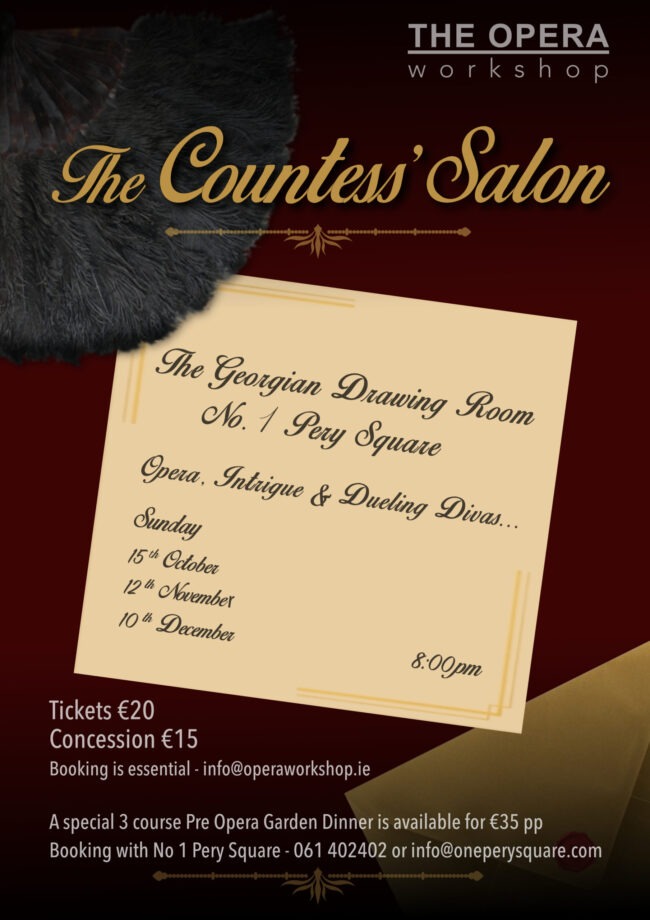 October 15, 2017 8:00 pm

November 12, 2017 8:00 pm

December 10, 2017 8:00 pm

The Georgian Drawing Room, No 1 Pery Sq
Tickets cost €20 and €15 concession.
Tickets for performances of The Countess' Salon must be pre-booked
Opera Workshop launches in Limerick with the generous support of The No 1 Pery Square Hotel.
Produced and directed by Shirley Keane, Opera Workshop invites you to the premier performances of this ensemble focused opera company, the first of its kind in the mid-west.
The Countess' Salon
Introducing the Countess de la Rose a charming, witty, rich and recently widowed countess who loves to host musical evenings. Her next Opera Salon will be held in the gorgeous Georgian Drawing Room of No 1. Pery Square and you are invited. Meet her handsome and devoted nephew, enjoy glorious singing, but watch out for unexpected and unwanted visitors as the Countess' past threatens to catch up with her. Tensions rise, tempers flare, love is lost and found in what promises to be a glorious evening of classic opera, well-known songs and musical highlights, including those by Puccini, Bizet and Mozart. This is a Salon that does not go smoothly for the Countess in a romantic, nostalgic story of star crossed lovers, feuding divas and a pushy tiger mama.
The cast include some of Limerick's best known singers, including Sarah-Ellen Murphy, Jean Wallace, Eve Stafford, Kevin Neville and Catriona Walsh, with piano accompaniment by Irina Dernova. Directed and produced by Shirley Keane this is the first of what promises to be many opera productions in the mid-west for this new Limerick based opera company, Opera Workshop.
Enjoy the warm welcome assured by the No 1 Pery Square. Dress up, dine and immerse yourself in the evening that is The Countess' Salon. The No 1 Pery Square are offering a pre-opera 3 course special menu at €35 pp. Dinner reservations can be booked directly with the hotel – 061 402402/ info@oneperysquare.com