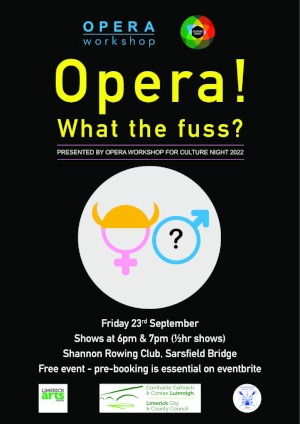 Shannon Rowing Club, Sarsfield Bridge, Limerick
Opera! What The Fuss?!
How many Sopranos does it take to change a light bulb?
Where have all the Tenors gone?
Does the Mezzo bring her own trousers?
None of the answers and many other useless opera facts tied up with some of the most beautiful music ever written, performed by Opera Workshop on Culture Night. Arias and duets by some of the greatest opera composers including Puccini, Mozart, Bellini and A Woman (there must be one???).
Opera Workshop with their trademark blend of musical skill and theatrical mischief bring you a Culture Night must see and hear event.
Two half hour concerts at 6pm and 7pm
Tickets free – booking essential on www.eventbrite.ie
Download the Virtual Programme here!
Supported by Limerick City & County Council Arts Office
With thanks to Shannon Rowing Club
Sopranos:
Jean Wallace
Roisin Walsh
Triona Walsh
Mezzo-Sopranos:
Shirley Keane
Sarah-Ellen Murphy
Bass-Baritone:
Kevin Neville
Pianist:
Eoin Scanlon