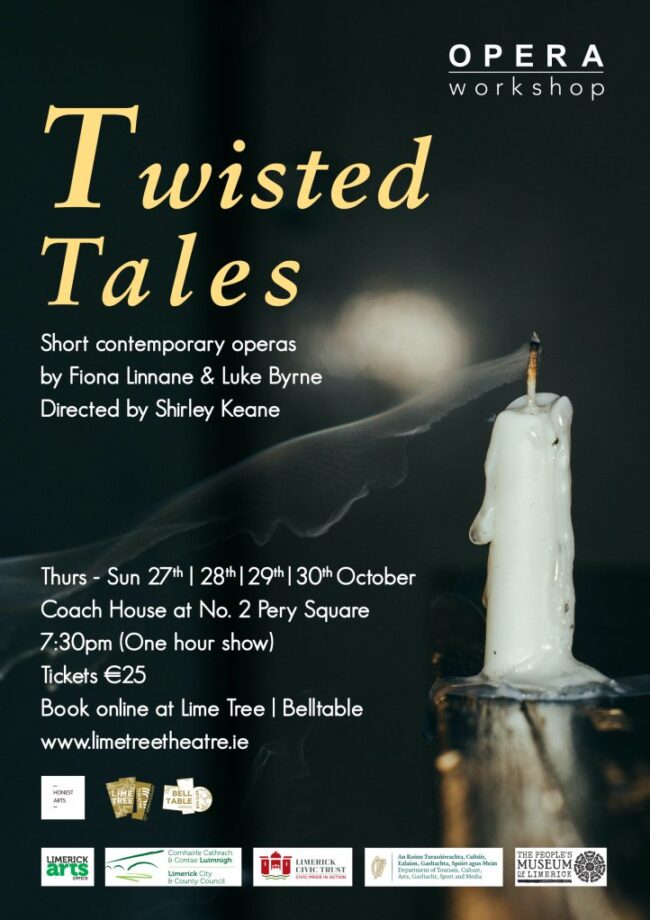 October 27, 2022 7:00 pm

October 29, 2022 7:00 pm

Coach House at No. 2 Pery Square
Performed over the Halloween weekend, 27th October – 30th October 2022.
Opera Workshop presented Twisted Tales, a short, scratch production of contemporary operas by Fiona Linnane and Luke Byrne, directed by Shirley Keane.
Set in the atmospheric surrounds of the Coach House in the garden of No 2 Pery Square, the Opera Workshop ensemble added an operatic twist to Limerick's Halloween fare with tales of portentous old dears, contentious wills, wild geese and ships lost at sea.
Operas included 'Off Tuskar' and 'The Hag of Loughrask' by Linanne and 'Ashes' and 'Bloody Murder' by Byrne.
Download the Virtual Programme here!
Made possible with funding by
The Department of Tourism, Culture, Arts, Gaeltacht, Sport and Media
Limerick City & Co Council Arts Office
And the generous support of Limerick Civic Trust
Cast
DEBORAH BULGARELLI – Soprano
EVE STAFFORD – Soprano
TRIONA WALSH – Soprano
ROISIN WALSH – Soprano
CATHERINE O' CARROLL – Mezzo-Soprano
SARAH RICHMOND – Mezzo-Soprano
SARAH-ELLEN MURPHY – Contralto
MATTHEW CURTIS – Tenor
DAVID KENNEDY – Baritone
BRENDAN COLLINS – Baritone
Pianists
DOIREANN O' CARROLL (Byrne operas)
KATERINA SPERANSKAYA (Linnane operas, Thurs 27th to Sat 29th)
EOIN SCANLON (Linanne operas, Sun 30th)
Crew
SHIRLEY KEANE – Director & Producer
EOIN SCANLON – Music Director
HONEST ARTS – Production Partners
Production Team
PIUS MCGRATH & TARA DOOLAN – Production management
ELLA DALY – Costume
GRÁINNE FITZGERALD – Stage manager
MATTY MORAN – Lighting Operator – Matty Moran
EVE STAFFORD – Social Media
SHANE VAUGHAN, CALEB PURCELL & CONOR O'BRIEN – Photography